Keep Temperatures Comfortable & Save Energy with Insulating Window Inserts
Custom Window Inserts Create Comfort
Drafty windows make your home cold in winter as heat flows outside. In summer, they force your air conditioner to work extra hard — leading to high energy bills all year. Window replacement is one solution, but it can be expensive and disruptive. For homes built before 1978, it also carries the risk of lead paint contamination. Insulated home windows make a huge difference in comfort and energy savings and can be as easy as installing window inserts.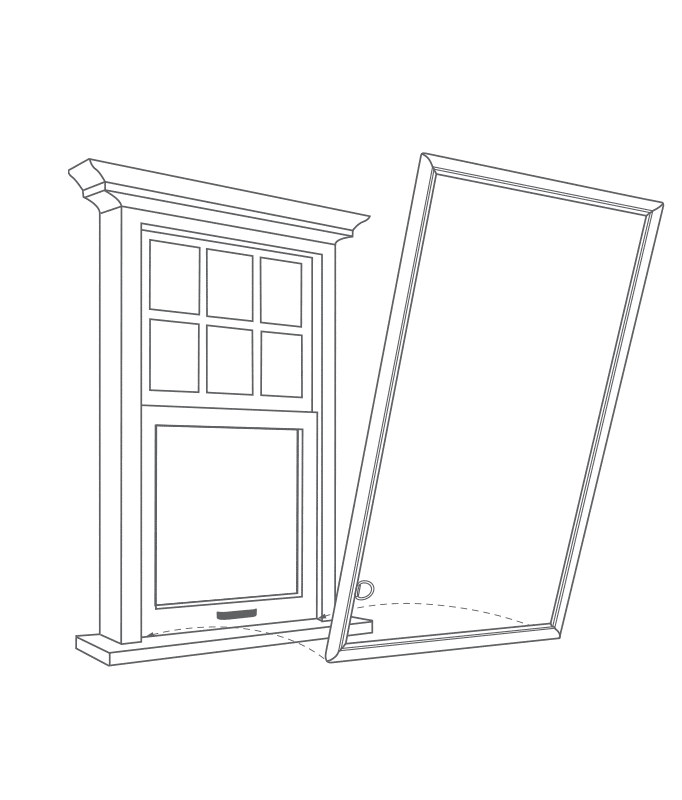 Whether you're trying to keep historic windows to preserve the value of your home or want to enhance the performance of newer windows, Indow inserts will regulate the temperature to make you comfortable year-round.
How to Seal Window Drafts Effectively
Our acrylic inserts are edged with a soft, patented silicone compression tube that presses into the interior of your window frames to seal drafts. You'll feel warmer in winter and cooler in summer, while saving up to 20% on your energy bills.
Unlike other solutions for insulating windows, Indow inserts use a proprietary software, Measure by Indow. We designed this to check the accuracy of window measurements. Going through this process ensures a precise, snug fit for your custom window insert. Why does this matter? Since homes and buildings settle over time, most windows aren't square. To seal window drafts effectively, we custom-make our inserts to be the exact shape of your window frames. Our measuring system ensures each insert fits every window just right.
Our patented compression tubing allows you to easily install or remove your inserts without damaging your existing windows with a mounting bracket or track system. The thermal acrylic increases the surface temperature of your existing windows, which raises the overall room temperature and lowers your energy bills. Another benefit? Due to the airtight seal, Indow inserts often reduce or eliminate window condensation.
Data Driven Results
average percentage saved on heating & cooling bills
INDOW
REPLACEMENT WINDOWS
Testimonials
Customers see immediate benefits
Read what our customers are saying about insulating drafty windows with Indow:
"As soon as they installed the Indow inserts, the chill disappeared. The Indow inserts were the missing piece that made my home both comfortable and energy efficient," raves one consumer.
Our inserts have even been featured twice on This Old House! Read more case studies on how our Indow window inserts can effectively block drafts to create coziness in your home.
Customize Your Insert
Each insert has a tube that edges the clear acrylic. This tubing should blend into your window frame. It comes in three colors: white, brown, and black.
All our acrylic interior storm windows are durable, lightweight and made to blend seamlessly with the surrounding frame. Don't buy new windows. Make the ones you have just right with our precision measuring software, which will ensure a tight fit for your new window inserts. Just choose the grade you need and get started measuring. We're here to help at every step.
Get a Free Estimate
WE SHIP TO YOU!
You're one step closer to creating more comfort & quiet in your home.
We value safety and privacy. We will never share, sell, or rent your data to third parties not directly related to your purchase or consideration of our products. Read our full policy here.
Customer Reviews
Charles T
Working with Indow has been a great experience from start to finish. They answered all our questions & guided us through the whole process. We ordered 15 inserts & they have reduced the Highway noise that we were experiencing after buying our house. A great product & innovative company.
Sue W
I live 20 feet from a busy road with lots of trucks. We almost didn't buy the house because of the noise. my house is the perfect candidate for indows. After installing them (myself. .. directions were so easy) we can barely hear any trucks noise at all. Indies live up to their claim and has made a huge difference.
Richard H
I am very pleased with the noise reduction and heat-trapping effects of my Indow inserts. I bought three small inserts as an experiment for the noisiest part of the house all year round, and where it's cold in winter. They have done beautifully well in sealing out both noise and heat. My only issue has been to get one of them installed perfectly straightly on one side, but it was done in a difficult location and isn't that important. They are also quiet expensive, but I may get a federal tax rebate on them.
Hee D
It could have been better if the pallet was collected after the delivery. Also the inserts are more beneficial for picture/fixed windows rather than open windows. The price of insert are expensive.
Larry S
I was pleasantly surprised how well the appearance after installation, perfectly clear, plus reduce the noise from the outside more than I expected. I would definitely recommend anyone looking for noise reduction to consider these. I will be purchasing more as time goes on, thank you Indow
Anonymous
Called about price $1000.00 For 2 small windows asked about energy savings? They said no guarantees depending on location and almost other factors, why would I spend that money w no guarantees
Christie R
It has cut down noise tremendously and is definitely more efficient with keeping our cooling in and heat out this summer.
William U
Indow is a trendsetter in eCommerce. They make the entire process of ordering, purchasing, and installing their product very easy for any walk of life; and, their communication processes are excellent. The inserts I purchased and installed were just as described. They are effectively blocking soundwaves, but not vibration, which was discussed during my initial call with an Indow Representative. I would recommend Indow window inserts to a friend.
Anonymous
Our window inserts have decreased road noise in our bedroom by 75 percent which we are very pleased with. The whole process was extremely simple and organized. Everyone we dealt with was professional and helpful. The inserts were simple to install and I would recommend to others.
Jeanne S
They make it easy to measure and install and it does reduce the noise as I live next to a busy highway. I am happy with the purchase.
Ivan L
We have a multi-story building construction next block that starts at 7 a.m. daily and a busy street a few blocks away. Before the insert was in place in our bedroom, we heard every piece of construction equipment there, including the obnoxious beeps from vehicles backing down in the lot, and all of the emergency vehicles passing by on the avenue. Now, this sounds like something happening twenty blocks away, barely noticeable. This is a huge quality-of-life improvement from day one of the insert installation.
Stan B
All fit as planned and are good
Cassie M
Overall very easy process from ordering to install. Was just hoping that the sound dampening would have been a little better.
Dan C
Effective and frequent communication from Indo Window starting with the order process, through production and post-delivery. The insert fit was excellent, fitting snuggly. The panel is quite effective in reducing noise. My wife was sleeping in the basement due to traffic noise. She is able to sleep in her bedroom again. Overall an excellent experience!
Lynett P
Great product. Arrived a bit dirty.