Keep Temperatures Comfortable & Save Energy with Insulating Window Inserts
Custom Window Inserts Create Comfort
Drafty windows make your home cold in winter as heat flows outside. In summer, they force your air conditioner to work extra hard — leading to high energy bills all year. Window replacement is one solution, but it can be expensive and disruptive. For homes built before 1978, it also carries the risk of lead paint contamination. Insulated home windows make a huge difference in comfort and energy savings and can be as easy as installing window inserts.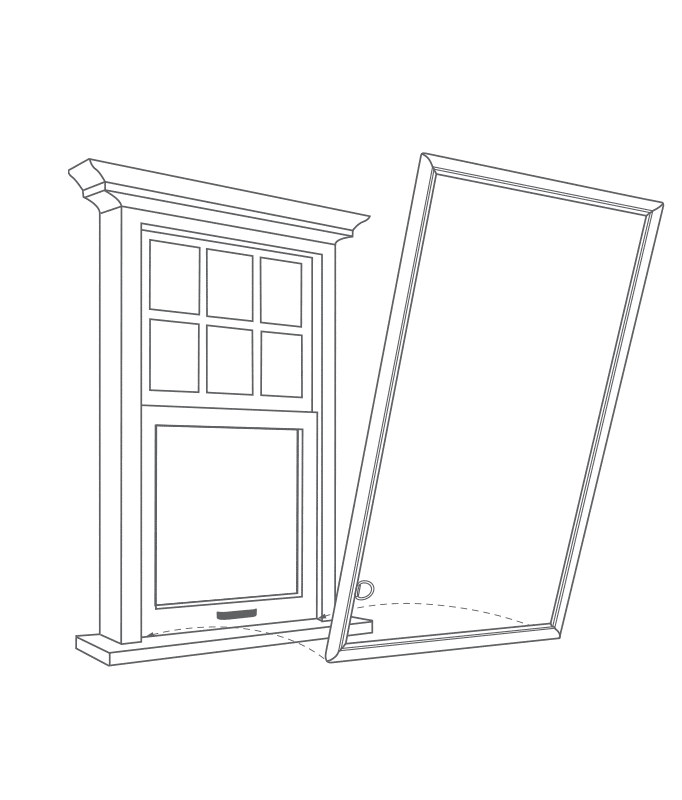 Whether you're trying to keep historic windows to preserve the value of your home or want to enhance the performance of newer windows, Indow inserts will regulate the temperature to make you comfortable year-round.
How to Seal Window Drafts Effectively
Our acrylic inserts are edged with a soft, patented silicone compression tube that presses into the interior of your window frames to seal drafts. You'll feel warmer in winter and cooler in summer, while saving up to 20% on your energy bills.
Unlike other solutions for insulating windows, Indow inserts use a proprietary software, Measure by Indow. We designed this to check the accuracy of window measurements. Going through this process ensures a precise, snug fit for your custom window insert. Why does this matter? Since homes and buildings settle over time, most windows aren't square. To seal window drafts effectively, we custom-make our inserts to be the exact shape of your window frames. Our measuring system ensures each insert fits every window just right.
Our patented compression tubing allows you to easily install or remove your inserts without damaging your existing windows with a mounting bracket or track system. The thermal acrylic increases the surface temperature of your existing windows, which raises the overall room temperature and lowers your energy bills. Another benefit? Due to the airtight seal, Indow inserts often reduce or eliminate window condensation.
Data Driven Results
average percentage saved on heating & cooling bills
INDOW
REPLACEMENT WINDOWS
Testimonials
Customers see immediate benefits
Read what our customers are saying about insulating drafty windows with Indow:
"As soon as they installed the Indow inserts, the chill disappeared. The Indow inserts were the missing piece that made my home both comfortable and energy efficient," raves one consumer.
Our inserts have even been featured twice on This Old House! Read more case studies on how our Indow window inserts can effectively block drafts to create coziness in your home.
Customize Your Insert
Each insert has a tube that edges the clear acrylic. This tubing should blend into your window frame. It comes in three colors: white, brown, and black.
All our acrylic interior storm windows are durable, lightweight and made to blend seamlessly with the surrounding frame. Don't buy new windows. Make the ones you have just right with our precision measuring software, which will ensure a tight fit for your new window inserts. Just choose the grade you need and get started measuring. We're here to help at every step.
Get a Free Estimate
We value safety and privacy. We will never share, sell, or rent your data to third parties not directly related to your purchase or consideration of our products. Read our full policy here.
Customer Reviews
Fayette V
The inserts provided immediate results for the better. The inserts a virtually invisible which was better than expected. The biggest challenges were getting the accurate measurements which I Dow was helpful with and repositioning the blinds. Everything has worked out. We are planning to do this with other windows
Jamie W
We were excited to receive our Indows, but once we got them in, we were blown away! They match our woodwork almost perfectly. Installing them was far easier than we had anticipated, and we were immediately impressed by the noise reduction, as well as the ability to reduce the impact of the windows on our indoor temperature! Couldn't be more pleased and very excited to be able to add "custom" shapes for the top of our lancet windows.
Mark H
The acoustic indow window worked better than I expected at blocking out noise. The only thing I didn't like was the shipping company (T-Force Freight). The shipping company was difficult enough that I decided to rent a U-Haul and pick it up at their warehouse.
Venkatesh G
Indow solves my noise problem due to highway traffic. I recommend this company for noise reduce solutions.
Thomas R
The process was simple and easy. I was a little nervous having to measure everything myself...but I got the inserts and they fit in our windows perfectly without any hassle. 1000% recommended.
Dan E
As always with internet purchases, I was holding my breath on my recent purchase of inserts! However, everything suggested by everyone I spoke to via telephone, email and text, was verified when I received and installed my inserts!!! Nothing short of phenomenal; fit, sound deadening qualities, (yet to discover energy savings), and customer service is excellent!! I highly recommend this company and product!!
Anonymous
Good quality window inserts. Easy to install. Unfortunately, doesn't do much to block road noise that I was hoping it would help with. Website is clear on the uses so I can't say it was false advertising, just buyer error.
Tommy J
We ordered 4 Indow Window inserts to see how they worked on our steel casement windows. We are very pleased with the fit and finish, and especially the improvement in wintertime comfort. Steel casements present challenging issues when trying to improve efficiency. The only downside for our installation is it required the removal of the locking and operating hardware to work in concert with our window treatments. The attached photo is during installation with Indow inserts installed on the two left pair; not yet installed on the two right pair. Pretty minimal visual difference! I'm now ordering 17 more inserts for the rest of the house.
Catherine L
Our acoustic window inserts have definitely reduced the amount of street noise coming into our apartment. While we can still hear the train as the engines pass by the noise from the train cars is very muted. Likewise we still hear the drunken club patrons yelling, but it no longer seems like they are in the room with us. Our big negative would be that the blinds we enclosed in the space between our single pane and the insert melted and warped within the first week. I don't think there was any mention in the directions about the possibility of heat build up and potential consequences. That might be good for people to know.
John W
Finally, a solution that doesn't break the bank and allows you to keep your existing windows. We bought ours primarily for additional soundproofing as our builder used dual-pane glass. It makes a measurable difference - 20 dB. The bonus is the insulation value. It's been a mild spring and our main bedroom at the front of the house facing the morning sun is much cooler. I suspect it will be warmer in winter as well. If you follow the self-measure and installation instructions to the letter, they go in easily. We have floor-to-ceiling windows, so we had massive inserts, but it was still manageable for two people.
Jillian G
The measurement process was overly complicated - I understand the desire to get a tight fit into not perfectly square windwos, but a 17 page manual for something you can accomplish with math felt unnecessary. I also found the interface to be a bit challenging to work with when inputting fractions that necessarily had to be rounded but the system didn't like my entry. Otherwise, the inserts themselves fit well, very tight, noticeable noise reduction. I am so satisfied with them that I am considering placing another order (depending on whether I want to also spend the money to change window treatments).
Michael M
What a great option for old homes with drafty windows! Our home's windows are so drafty that the curtains in our bedroom would move/blow when it was windy out. The communication with Indows was excellent, and our questions were answered promptly. We thought the measuring process would be a pain, and we were worried we would not be accurate enough, but the kit they sent along with the instructional videos made it very easy. The Indows were delivered in a large wooden crate, and they made it through shipping unharmed (just some dirt marks on the silicon tubing, most of it came off with Castille soap, but some dark smudges did remain on the white tubing--our only disappointment). Our windows are huge, so we installed the little safety chain provided and inserting them was a 2 person job. There was a little bit of a learning curve with the first Indow, but we can take them in and out fairly easily now. The fit was perfect, and we noticed a difference in the temperature of our home right away. Our house stayed warmer, our furnace ran less, and our curtains are no longer blowing in drafts. The product looks great, and blends right in with our woodwork! We will definitely order more for the few windows we didn't do, and we would recommend this company and product to anyone.
Lisa I
They really work! While I still hear traffic (mostly trucks and motorcycles) normal car traffic is virtually silenced. I'm still not able to sleep in the room because we get so many trucks I am able to use this room as an office space now, which was my goal. This room was once the noisiest room in my house and now I enjoy coming up here to watch tv. Thank you!