How to Order Indow Window Inserts
How it Works
We make custom window inserts based on Measure by Indow, a proprietary software we designed to check the accuracy of window measurements. Going through this process ensures a precise fit, allowing us to offer you our Snug Fit Guarantee(™). But the whole process starts with an estimate, so you know how much our custom storm windows are going to cost before you decide to move forward.
---
Measuring for an Estimate on Custom Window Inserts
Getting an estimate is simple. It involves measuring all four sides of your window using a tape measure. Check out this illustrated graph:
STEP 1:
Some windows have more than one frame step, shown above in blue and yellow. Identify the best frame step to install the insert.
STEP 2
For the inserts to fit there must be at least 5/8″ of flat space all the way around. Measure width and round up to the nearest inch.
STEP 3
The frame step must be unobstructed by window hardware or blinds. Measure the height and round up to the nearest inch.
You can plug your measurements into our online calculator or contact us for a free consultation and estimate.
If you have an odd-shaped window or an especially large window that needs a mullion, we will work with you to find the perfect solution.
---
Working With a Representative
Once you decide to move forward, you'll work with an Indow representative who can explain and help every step of the way. They're knowledgeable about windows and can answer any questions you may have.
---
Picking the Right Grade and Colors
There are a range of grade types to choose from to make your windows work just right, whether it's blocking UV light, increasing privacy or reducing noise. You can also choose from three tubing colors so the inserts blend into your window frames.
Grade Types
Each grade blocks drafts and reduces outside noises, but our premium grades have special features to make your existing windows work the way they're designed to while providing additional benefits. Click here to read all of our grade descriptions.
To take the next steps on your order, there are two ways to submit your window measurements: an Indow provided laser, or your own tape measure. Either way, your measurements will be checked and confirmed by our proprietary measurement software Measure by Indow. This ensures a snug fit for your custom window insert.
To get a free estimate, use our online calculator or contact us today.
The tubing comes in three colors:
Brown
Black
Warm White
Laser measuring and tape measurement
We custom make each insert to fit your window frames precisely. Once submitted our window measuring system checks and confirms all dimensions. This proprietary software has an over 99% accuracy in the over 100,000 inserts it has assessed. This snug fit is what helps our inserts do a superior job of blocking drafts and noise.
Houses settle over time, and our laser measurement kit will get your historic home the most accurate measurements possible. It also is helpful when measuring very tall windows or when you have a lot of windows in your home.
For our clients who have newer homes or want a quick order process, our tape measurement program does not require a deposit and can get your order processed the fastest way possible.
---
How long?
You will receive the Laser Measuring Kit via USPS Priority Mail. We ship the kit the same day that your order is created, or next day depending on the time of day. Delivery is typically within 2-3 days of shipment. Once you've submitted your measurements and made payment on your order, it will enter our production queue. Our current production lead time varies based on current demand, order size, and a variety of other factors. You can check on our current lead times here.
For our tape measure orders you can receive your link to Measure By Indow and submit final measurements within the same day.
How Easy Is It To Install?
Indow inserts are easy to install and remove from your current window frames with no mounting brackets. Larger Indow inserts will be more difficult to install because of the weight and size, requiring two people. Unlike other storm window options that require caulking and adjustments, Indow inserts are custom fit to your window so they fit like a glove right out of the box.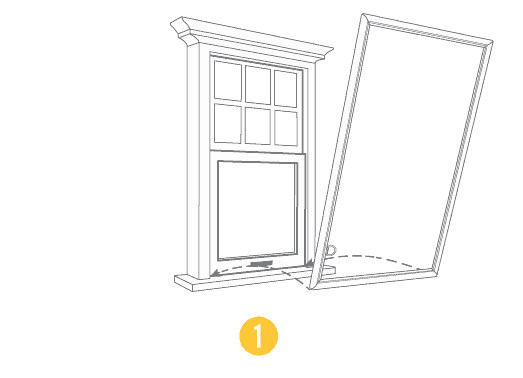 To get started on blocking drafts and noise, fill out the form below:
Get a Free Estimate
WE SHIP TO YOU!
You're one step closer to creating more comfort & quiet in your home.
We value safety and privacy. We will never share, sell, or rent your data to third parties not directly related to your purchase or consideration of our products. Read our full policy here.